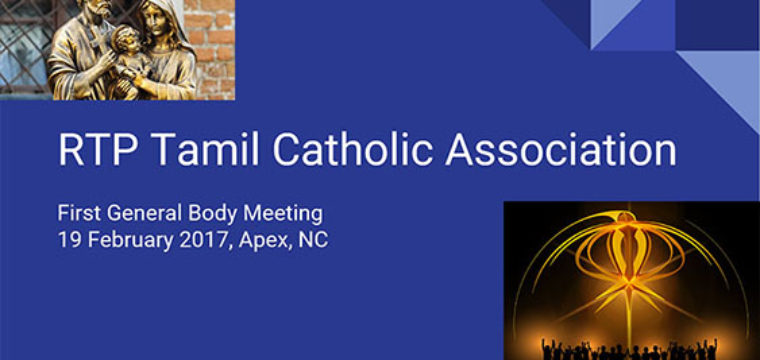 The very first General Body Meeting of RTP Tamil Catholic Association was held on the 18th of February at Lourdes Matha Syro-Malabar Catholic Church at 7.30 pm.  Seventeen families participated in the meeting.
The meeting started with the blessings of Rev.Fr. Gnanapragasam, Spiritual Director of RTPTCA and Rev.Fr Lourduraj Alapathy. President Lazar welcomed the gathering and gave background and context to the starting of the Association. He highlighted that we have been celebrating Tamil Mass for around 15 years and it was time to take this group to the next level. He also introduced the Board of Directors.
Secretary Saveriar traced the formation of the Association from idea to fruition. Antony, one of the Directors of the Board, gave an inspirational speech about coming together for the good of others. He highlighted several initiatives that could be done as part of the Association, including Catechism and volunteering. Another Board Director, Juliet, outline voluntary activities that the Association will take up. She will be communicating more details in due course. Treasurer Joseph outlined the membership structure and fee, followed by a Vote of Thanks by Vice President Francis Albert.
This was followed by a Q&A in which members came up with questions and very good suggestions. After which, the meeting was adjourned.